Global March Against Child Labour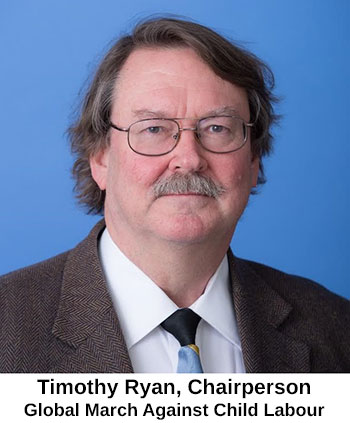 At the last Global Conference on Child Labour in Argentina in 2017, the relatively good news was that the number of child labourers had dropped to 152 million.  That progress has now been threatened by the COVID-19 crisis.
In mid-2020 the Global March Against Child Labour (Global March) carried out a survey on COVID-19 and child labour with 40 of its civil society members from Asia, Africa and Latin America. The survey confirmed that the world was likely to face an increase in child labour across sectors not only in the agriculture sector which is the largest employer of child labour, but also in the service sector, which will equally face an unprecedented rise in the number of working children. Girls who already face the triple burden of school, household chores and child labour are predicted to be worst affected.  Unfortunately, the new ILO-UNICEF  Global Estimates on Child Labour bears out this development.
The Global March, trade unions and civil society organisations are pushing on governments and the UN system to recognise and step up to address the increased vulnerability of children today.  The ITUC's "fair share" campaign for government budgets and the campaign to induce governments to spend at least 6% of their GDP on education and children and families' social protection is a clear clarion call for governments to have a more systemic approach to addressing child labour.  Even in normal times, it is unconscionable for children to be so exploited; now in the midst of the COVID-19 pandemic, this crisis should never be used to justify existing or increasing child labour.  History and this moment demand that the year 2021 is the crucial year for serious, concerted action against child labour and not just a feel-good commemoration of work already done.