I recently had a chance to spend few days with our partner organisations in Nepal in last week of October 2018, who graciously agreed to host my visit to the country. This blog is meant to applaud the amazing work they are doing to advocate for and protect children's rights, while also helping me to make sense of what I saw and heard and to understand what it means for Global March's work globally.
Global Mach's intervention in Nepal dates back to late 2000s and since then our work has been to consistently raise the issue of child labour and trafficking in the country. In fact one of the core marchers of the historic Global March Against Child Labour came from Nepal.  In the past Global March has organised an anti-trafficking march in the south asia region, covering Nepal and also was a replication ground for one of the most successful models for promoting and protecting children's rights, the Bal Mitra Grams (BMGs) or Child Friendly Villages.
While no one is ignorant of the issue of child trafficking and child labour in Nepal, the issue has not found its feet amongst the policymakers and the masses until very recent times. During my short visit to Nepal, I endeavoured to meet our project implementing partner, Swatantrata Abhiyan (SAN) based out of Kathmandu as well as other organisations such as UNICEF, ILO and one of our oldest partners from the Dang district of Nepal, Backward Society for Education (BASE). I also had an opportunity to meet the members of Domestic Workers' Forum of Nepal.
My first offline interaction with SAN's staff lead me to participating in one of the Consultations organised by them on the need for ratification of ILO Convention 189 on Decent Work for Domestic Workers in Kathmandu. This Consultation invited members from trade unions, domestic workers, domestic workers associations, migrant workers organisations along with ILO and few policy makers. Beginning with the introduction on what the Convention meant globally and for Nepal, the Consultation saw fruitful discussions on the need to protect adult domestic workers. It also revealed the various protective mechanism that Nepal's law provides to all workers such as in the social security act, domestic workers have found a mention, under the Employment Act, without prior information no employee can expel a worker etc. SAN's director, Ms. Writtu Bhatta informed the participants that developing a law for the protection of domestic workers will help formalise domestic work for which as per a survey done by them, employers were ready to pay 10,000 Nepalese Rupees as well. It will also prevent women and young girls from getting trafficked or migrate abroad in search of work. There would be increase in internal revenue and generate more employment.
Ms. Writtu Bhatta also further enlightened the participants that Nepal was the first country to advocate for protection of domestic workers' rights in Asia through the Asian Domestic Workers Network founded in 2005 and that in 2011 Nepal government also endorsed the adoption of ILO Convention 189 but still has not ratified it. Domestic workers comprise of 4% of country's workers and that they had no legal identity and were deprived of legal protection. Due to lack of any identity needed to work in this sector, child domestic labourers were often hired. Moreover Nepal does not have migrant workers coming to Nepal to work, therefore it was easier for Nepal to ratify the Convention, without having to worry about transnational issues. An interesting scenario narrated by Writtu was that young people now have begun migrating internally in the country from rural areas to towns and cities for educational purposes . While these children go to schools and colleges during the day, by afternoon they work as domestic workers, who preffered  not to be identified as domestic worker due to the stigma attached to the job. She further went on to explaining what the Convention 189 talks about in terms of protective measures for adult domestic workers along with mentioning about Recommendation 201 to the Convention that explicitly talks of eliminating child domestic labour below the minimum age and for children above the minimum age it calls for decent work as well as provision of opportunities for formal or informal or vocational education/ training. Writtu also mentioned that Nepal currently had no data on number of child labourers in the country and that ILO was in the process of mapping the same and report on the same will be launched in 2019. The new Child Labour Master Action Plan endorsed by Government of Nepal for which SAN gave its recommendations, also prioritised eliminating child domestic labour.
After the presentation by Writtu, the discussions talked of challenges in registration of domestic workers, lack of data on number of employers and domestic workers in the country, the problems faced by domestic workers and seasonal workers  and the lack of political will for the protection of domestic workers among others. The Consultation ended with renewed commitment on behalf of Members of Parliament present as well as the trade unions who form a strong and influential lobby group in the country.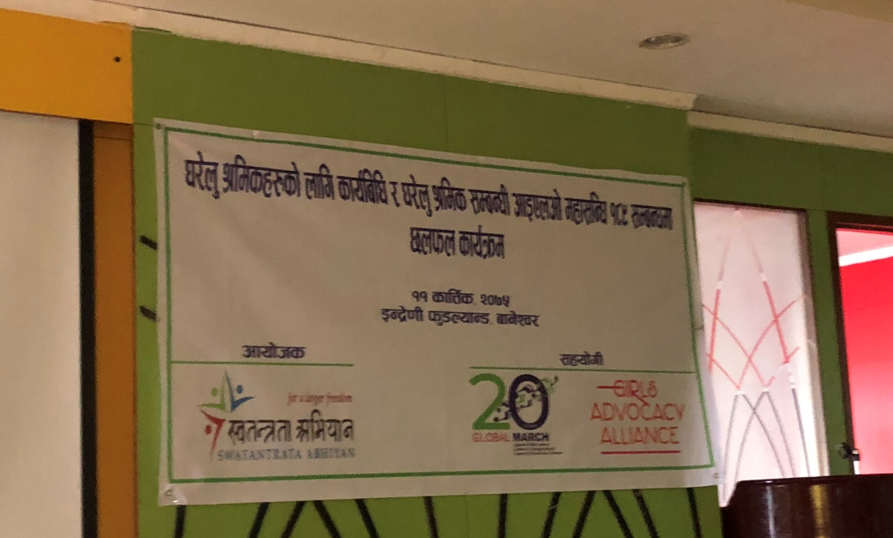 On the second day of my stay in Kathmandu, SAN acquainted me of their work under Global March's programme such as the policy dialogue conducted with MPs, advocacy on Convention 189, advocacy at the state level, as well as campaign on SDG and child rights in the country. SAN also informed of the various laws, policies and strategies that were under review in the country such as the child rights bill, child labour master action plan, child marriage national strategy, the child labour act, the trafficking bill and that a council was being constituted by ministries and municipalities which will be responsible for all labour exploitation of children.
Further during my interactions with UNICEF and ILO, I got to know of the collaborative work being done by the two organisations and other few organisations as part of Inter-Agency Working Group on Child Labour, formed in Nepal on addressing child labour along with the Ministry of Labour. In June 2018, this group was also involved in ensuring Nepal becomes a pathfinder country to achieve SDG 8.7 under Alliance 8.7 initiative through a Consultation inviting different stakeholders. I was also informed of Ministry of Labour's plans to create 200 child labour free 'palikas'. Interaction with ILO also revealed their involvement in supporting the Central Bureau of Statistics in developing disaggregated data on forced labour, which will also give fresh estimates on child labour. ILO was also said to be working towards implementation of the 2nd Mater Action Plan on Child Labour.
One of the meetings that I most looked forward to was meeting the Domestic Workers Forum members and listening to their stories.  While I sat and relished some Nepalese momos at the restaurant where meeting was held, the hard hitting facts and realities of the domestic workers shared by the domestic workers stayed with me for a large part of my trip. The 5 domestic workers who came to talk to me shared their stories of violence, hunger and indecent working hours and wages that they experienced, but now they were ready to fight for their right to be recognised and have a decent life. The representative from the IDWF's South Asia chapter highlighted their work in withdrawing child labourers from work, working with schools to spread awareness amongst domestic workers who studied in school during the day and the various campaigns organised by them to have a separate law to protect domestic workers. They have also organised dialogues with Parliamentarians, supported groups for trafficked and migrant workers and engaged employers and rewarded good employers. The Secretary of the Domestic Worker's Forum of Nepal, who also serves as a support staff for SAN was a proud member of this forum which has grown its membership to 300 members in last 3 years. She informed me of the work done by them on information and awareness raising such as not to work without a contract, increasing minimum wage, having a job description etc. They have also started working with employers and organised open interaction programmes between domestic workers and employers. This has helped them in breaking barriers and understanding both perspectives.  They also claimed that there is no child labour below the age of 14 in Nepal working in the domestic work sector due to strict laws implemented in the country.
While the knowledge gained through interactions with different stakeholders enriched my visit to Kathmandu, what also stayed with me was traversing through the city on a motorbike of a SAN colleague for meetings and exploring the rawness of the country and its sheer cultural and natural beauty. I shall forever be grateful to Ruja from SAN for giving me this lifetime experience.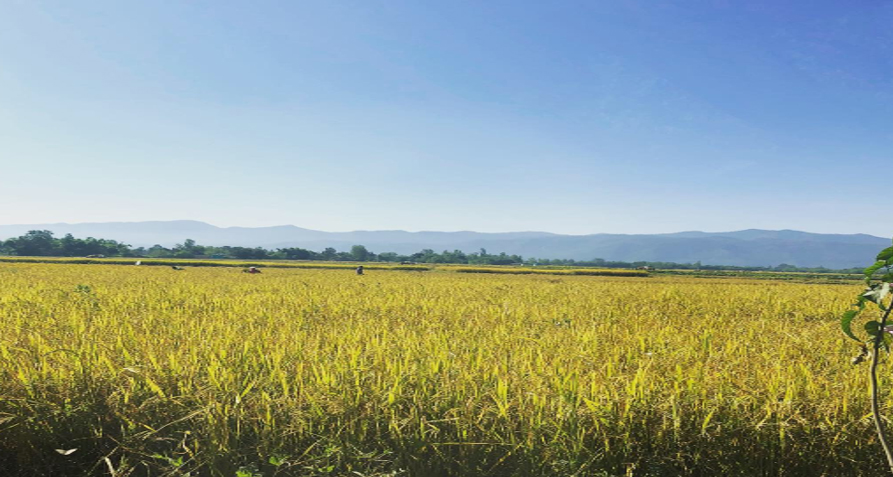 My last stop in Nepal was visiting BASE in Dang district of Nepal. While Global March currently does not have any programmes running with BASE, but visiting the communities they work with and the programmes undertaken by them gave me an insight into the problems at the grassroot level and the unique solutions  implemented by BASE. In terms of advocacy BASE is now spearheading the work in localising the implementation of the Master Action Plan on Child Labour.
While my 4 day trip to Nepal was only of few days, but it gave me a quick sneak peek into the commitment shown by the country's stakeholders in tackling their socio-economic issues and that the fight against child labour was now not only of the children or the civil society, but of all other member of society as well. It was encouraging to see that different stakeholders such as the trade unions, domestic workers organisations, migrant workers organisations, international NGOs and UN agencies along with the governments and MPs were all pressing forward in establishing robust laws and eventually towards their effective implementation. As a global network working to see an end to child labour in the world, witnessing such progress and political will is extraordinary and shines upon us a ray of sunshine.
By
Maina Sharma
Maina Sharma is the Communications Officer at Global March Against Child Labour, International Secretariat in New Delhi.