Uganda's Mt. Elgon region is known for Arabica coffee production with a quality and taste that is amongst many other things, unusual. It also has community driven coffee cooperatives and companies with ethics and spirit of giving back to the community. The Mt. Elgon coffee and honey cooperative and Kikobero coffee company are two such business models in Uganda's coffee supply chain that are leading by example.
Mt. Elgon Coffee and Honey Cooperative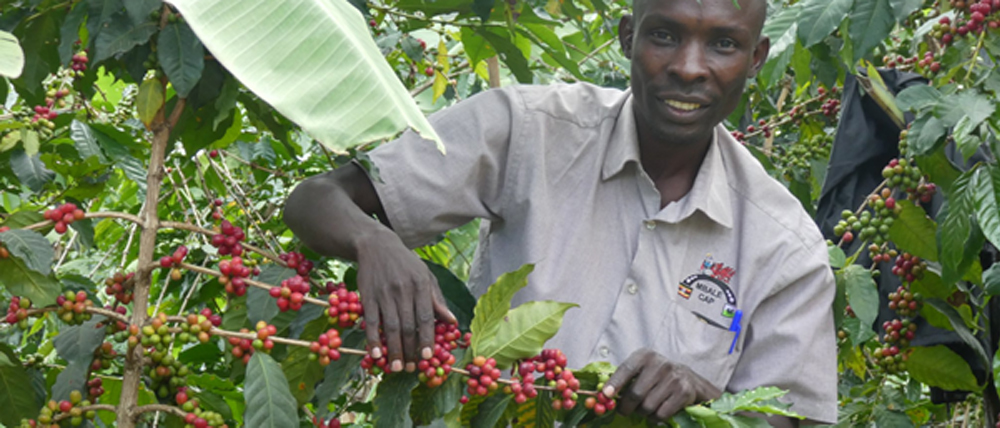 A producer and exporter cooperative of 700 smallholder members working in groups of 25-50 members on spectacular landscapes of Mt Elgon region overing Mbale, Bulambuli, Spii-Kapchorwa, Bududa, Manafwa, Namisindwa and Sironko areas, this cooperative is doing everything right to prevent and address child labour in its coffee supply chain. Besides working with smallholder coffee farmers, they also engage women in beekeeping for diversifying and strengthening household income in the region. In 2017, the cooperative set up a grievance mechanism in place with the farmers and women groups to receive complaints pertaining to child labour and other human and labour rights violations. Since the year 2021, the cooperative, as a part of Global March's intervention on addressing child labour in the coffee supply chain in Uganda has further improved its grievance mechanism by introducing referrals to access remedy.
Using a Child Labour Monitoring System/CLMS, not only does the cooperative monitor and refer the cases of child labour to relevant child rights organisations active in the area, but has also identified the root causes of child labour along with other risks and community based issues and conflicts in the area. For instance, through the grievances received, the company was exposed with the information of how the additional income earned by the coffee farmers and farm workers was not being sustainably invested and utilised which is now being addressed by linking them with savings programmes and encouraging them to invest in their children's education and their own skills. Additionally, with the technical support of Global March's partner ANPPCAN Uganda, the cooperative has been able to address the issue of child labour vs. child work in the community, leading to an increased awareness about hazardous work in child labour amongst the communities.
According to the cooperatives General Manager, Rogers Wasabi, "Despite the lack of interest by the EU and other global north markets in Ugandan coffee, cooperatives and companies like theirs integrated child labour identification, referrals, monitoring and remediation as a normal practice with a lot more confidence about the transparency of their product." Business models like those of Mt. Elgon show that it is not impossible or complicated to ensure transparency, address child labour and maintain a high quality of the product along with community welfare and interest at the same time.
Kikobero Coffee Company
Ensuring a transparent and child labour free cup of Ugandan coffee
Led by Uganda coffee sector's visionary Martin Nangoli, the Kikobero coffee company has at its heart a love for coffee that dates way back in time when the village grannies used to walk for months across Mt. Elgon with 20kgs of coffee on their heads to neighbouring Kenya for trade. The company is not only producing and selling but also celebrating the legacy and significance of coffee in the community as it has historically remained a key source of income for the smallholder coffee farming communities in the region. The company has established schools for community education and sponsored over 1,000 children to access educational services through Wakeup schools and other higher-level institutions of learning. Additionally, they ensure that the income improvement amongst households is able to prevent child labour and promote education of children with an incentive of school feeding.
"After being months away, their return to Kikobero was celebrated as it meant that some children would go to school, the sick would access medical services and that families would afford some basic services. We grew up in such an economic setup and to date, coffee still supports our families; it is our identity as Kikobero, Elgon region and Maasaba land. We have gone to school, begun families, built churches and schools, equipped hospitals among other interventions because of coffee."
Martin Nangoli
Youth and women empowerment
To ensure sustainable socio-economic transformation of the communities, Kikobero coffee works with community youth and women along the value chain. During the coffee season, they train, upskill and create employment opportunities to over 100 youth and women at different stages of the value chain like at ready red cherry hand picking, washing, transportation, sorting, drying, milling, packaging, marketing etc. Many of the women and youth that we work with have been able to make a difference within their respective communities.
Quality and environment protection
At Kikobero coffee, some of the key aspects of environment protection include but are not limited to water source protection, safe waste management, energy conservation, safe storage, disposal or reuse of packaging materials. A significant focus is also on building capacities of the farmers into climate smart and environmental protection practices like mulching, terracing, agroforestry, afforestation etc. Such practices play a crucial role in making Kikobero coffee one of the finest in terms of quality as farmers are trained in how to grow, produce and process high quality arabica coffee organically. The company is working with 420 farmers who are all well documented for traceability purposes and have a high level awareness on the issue of child labour, its prevention and the referral process to ensure a child labour free supply chain.