Global March Against Child Labour (Global March) is proud to inform all our members and partners that we are actively working with several organisations to promote international responsible business conduct and address severe negative impact to people and the environment connected to the metals supply chains which we would otherwise not be able to tackle on our own. This multi-stakeholder collaboration is through the International Responsible Business Conduct Agreement for the Metals Sector, and also enables us to contribute to realising the UN Sustainable Development Goals as well. The other participants in the collaboration include companies, the government, industry associations, NGOs and trade unions.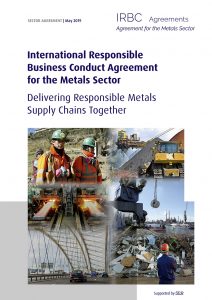 Why Global March signed on to this agreement?
Metals are essential for the production of many goods and technologies and are crucial for the low-carbon transition. The implementation of the Agreement will be devoted towards:
providing companies with the necessary knowledge, instruments and other resources tools to be able understand and/or address potential risks in their supply chains (from extraction to recycling),
identifying and addressing potential risks linked to the secondary materials (metal scrap) supply chains, and
encouraging relevant actors in the metals supply chains (at the national and international level) to adopt and implement the OECD Guidelines for Multinational Enterprises and the UN Guiding Principles for Business and Human Rights.
Global March therefore calls on all our members and partners to support and join our effort in working towards responsible metals supply chains.
Interested in joining or learning more? Contact the secretariat at metaalconvenant(at)ser.nl or visit the website.