by Henrietta Namava Nakhulo
The recently conducted national census of 2019 showed that a total of 46,639 Kenyans are living on the streets across the country. The city of Nairobi has the highest number of street population at 15,337, followed by Mombasa (7529), Kisumu (2746), Uasin Gishu (2147) & Nakuru (2005). 56% of this population are children aged five years, who have no idea of their parent's whereabouts.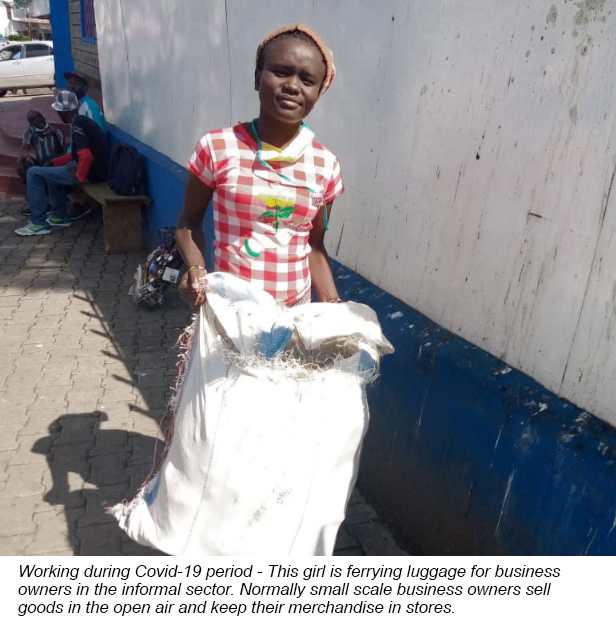 Street children in Kenya are known by a local name of "chokora" meaning scavengers of garbage. The lives of street children have never been easy, and now due to COVID-19 their situation has aggravated further, it is like falling from the frying pan into the fire. 43% of these children acquire their food from buying, followed by begging at 21%. The national economy is on shut down, citizens are advised to stay home, in an effort to contain the spread of the virus. The lockdown has worsened the situation for homeless children. Curfew and closure of non-essential services has reduced human traffic that the street children depended on for handouts and casual jobs. With the onslaught of coronavirus, their sources of survival have significantly reduced. For these children right now, hunger is a bigger concern than the pandemic.
The Kenyan government has imposed a curfew, from 7 pm to 5 am, as a preventative measure against COVID-19. Since homeless children do not have a home to go to at night, they are often arrested for idling and not obeying the curfew. Some of these children say that they even accept having committed the offence in the court because they fear being held in police custody. They accept these false allegations, so they will be set free with a warning.
While everyone is expected to follow "social distancing" as a preventative measure against COVID-19, the homeless children of Kenya huddle together in a dark corner at night, seeking warmth and a sense of security in togetherness. Here, in this dark spot that they call home, wearing masks or washing hands is not even remembered, let alone be prioritised. Some parts of Kenya have also been experiencing heavy downpours and flooding, making survival even more difficult for these children.
The national census report also highlights that between 10-17 years age group, 92.% of males are involved in illicit drug  and  alcohol peddling and 96.1% of female engage sex work in the night. Some homeless children also engage in  legitimate businesses such as pottery, scrap metal, garbage collection, fetching water and vending the water across the city. 28% children make ends meet through begging.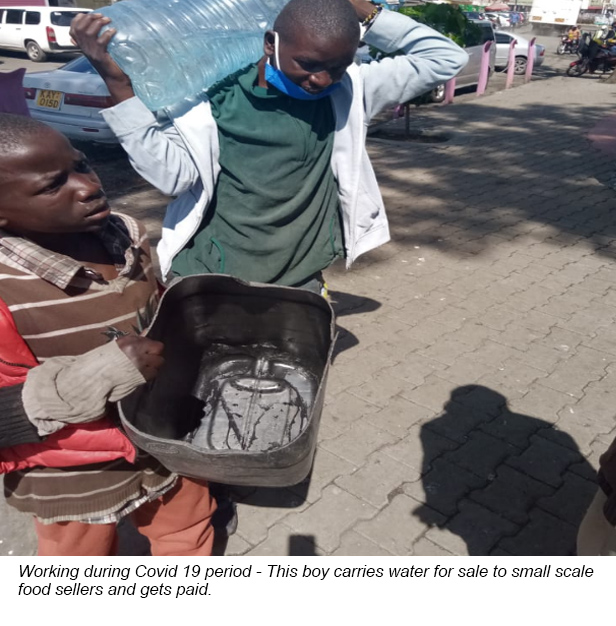 Every street child has a different story about how they ended up being homeless but data suggests that corporal punishment ranked highest at 43% for persons aged 15-19 years. Only 28.2% children aged 10-14 years live with their parents on the streets and 33.5% say that they were influenced by their friends.
Data has shown that 37.7% homeless children have suffered from malaria, 17.7%-chest related diseases, 13.9% suffered fever and 10% suffered from diarrhea, stomachache and sexually transmitted diseases. These pre-existing health conditions make them especially vulnerable to COVID-19. 
Kenya Plantation and Agricultural Workers Union (KPAWU) has been actively supporting the street children of Nakuru county since the onslaught of COVID-19. They are ensuring that the children have access to basic needs like food, soap and menstrual hygiene products. KPAWU is also working in collaboration with Kenya's Ministry of Health on generating preventive awareness in the homeless community.
Street children are a vulnerable group of children as they are exposed to very harsh living conditions and complex experiences at a very early stage in life. They face violence, abuse and discrimination almost on a daily basis and due to COVID-19 they are at risk of being pushed into the worst forms of child labour. Comprehensive strategies need to formed to ensure the well-being of homeless children:
Provision of shelter for homeless children to safeguard their interests by providing them with a supportive environment.

Access to mental health care  and counselling services.

Improvement of  social welfare by supporting their access to health services.

Supervised, professional and empathetic rescue systems, rehabilitation and reintegration.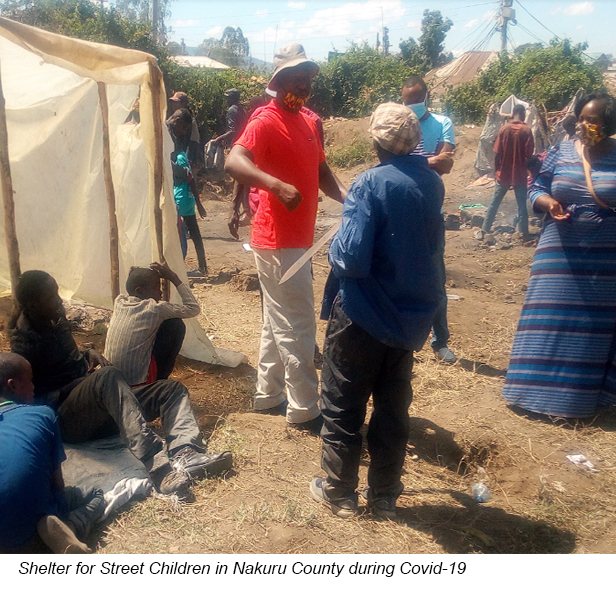 Recently, these children were pushed to the public transport parks from the central business district in Nakuru County by the County government in a bid to reorganise the town in the wake of the pandemic. This is a place where public vehicles pick and drop passengers. The government directive of no gatherings and stay at home campaign meant curtailing their free movement. The County government presumed that by consolidating them together is a measure to effectively manage the spread of the virus and also ease the management of the street children. However, the location they were taken to is not conducive because it is an open space, no shelter, no food, no security. The street children are in dire need of support and at the mercy of well-wishers to give them basic supplies. 
Young girls living on the streets are most vulnerable to sexual exploitation and violence, often leading to unwanted pregnancies and crude methods of abortion, sexually transmitted diseases, fistulas and long term psychological effects.
Increased poverty, loss of employment and gender based violence due to COVID-19, threatens the progress we have made in the fight against child labour and its worst forms. There is a chance that more children will be pushed onto the streets and the ones already homeless will experience worsened living conditions. 
Governments, businesses and civil society organisations need to do more than ever before to fight child labour and its worst forms by highlighting the predicament of the most vulnerable children, especially in the post COVID world.
Henrietta Namava Nakhulo works with Kenya Plantation and Agricultural Workers Union (KPAWU). She works as an Education and ICT Officer. She has a degree in Geographic Information System and Remote Sensing and an MSc in Occupational Health and Safety. She is passionate about children and committed to protecting and safeguarding their childhood by fighting against child labour and its worst forms.  
KPAWU is a trade union championing for workers' rights by promoting social justice and decent work  in the agricultural Sector in Kenya, i.e., fisheries, horticulture, sisal, tea and coffee plantations and ranching sub-sectors respectively. KPAWU is an  affiliate of Central Organization of Trade Unions (Kenya) and part of the network of Global March Against Child Labour.