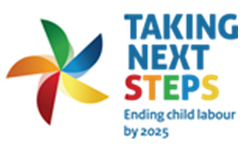 Is your company or organisation looking for innovative solutions or does it have valuable insights to tackle child labour in a supply chain or on country-level? Or do you want to engage in a constructive dialogue about practical solutions which help address challenges to end child labour by 2025?
Then please join our international meeting 'Taking next steps to end child labour in global supply chains' on 27-28 January in Leiden, The Netherlands.
In today's global supply chains, we struggle knowing where our products are made or under which circumstances raw materials are sourced. We do know that 152 million children are still victim of child labour.
As the world is committed to the SDG's and more specifically to SDG 8.7 to eliminate of child labour by 2025, we believe that consumers, sourcing or producing companies, governments and civil society all have responsibilities towards these children.
Therefore, let's step up and accelerate our efforts to meet the urgent deadline of SDG 8.7 and end child labour by 2025!
For more information and registration please check www.takingnextsteps.nl
#takingnextsteps
This international meeting is organized by the Dutch Ministry of Foreign Affairs and the Dutch Ministry of Social Affairs and Employment, in close collaboration with the International Labour Organization (ILO), Global March against Child Labour and the Netherlands Enterprise Agency (RVO).