Global March partner organisation in Lahore, Grassroot Organisation for Human Development (GODH), since its inception in 1998 has focused on the neglected and often marginalised indigenous nomadic (Gypsy) children.  In order to create an environment of social cohesion and inclusion for these communities, GODH has been organising events to promote the culture of these tribes. Continuing with this tradition, GODH Lahore organized a two-day event called 'Gypsy Mela' on the 4th and 5th of March, 2014 in Lahore, Pakistan focusing on the theme of 'Identity' (social and legal). The event was a gala one replete with performers and musicians celebrating the richness of the customs, traditions and the arts of these indigenous tribes. Alongside, a conference was also held to engage civil society actors, government line departments and the media on the issue of gypsy rights and identity.  A NADRA (National Database & Registration Authority) mobile wagon was also brought in to facilitate the registration of the members of the Gypsy community as citizens and thus help in incorporating them as a part of mainstream society.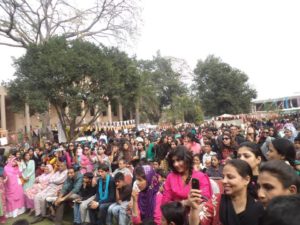 Applauding the efforts of GODH Lahore, Kailash Satyarthi, Chairperson Global March said, "While one end of the human race has successfully conquered moon and Mars, the other remains deprived of even a piece of land to settle on. While the information technology and markets have grabbed the entire world, millions still remain as exiles of civilisation. While nations, religions and corporate brands fight for their supremacy there are people who remain without human dignity or even identity. The so-called cultured masses call them nomads or gypsies. This is nothing short of a conspiracy of exclusion. Isn't it a paradox that these very victims of a vicious system are perceived as anti-social elements by the elites? For me, these people are the mirror of human development. If their present and futures are denied, the aspirations of their children robbed off and if they struggle for their very existence, no society has the moral right to call itself civilised, cultured and developed. We must act now. I congratulate my younger brother Nazir Ahmed Ghazi and his dedicated team at GODH who have been fighting for the rights of the gypsies in Pakistan. They are a source of inspiration for people across the world."
Efforts such as these are sure to break many of the prejudices and stereotypes that surround these communities and thus guarantee them a better future.