We asked the founder of Grassroots Organisation for Human Development (GODH) Lahore, Mr Nazir Ahmad Ghazi, a few questions about their work on child rights in Pakistan:
GODH has been a long term member of the Global March Against Child Labour from Lahore, Pakistan. You can support their work by making a donation at https://gogetfunding.com/september-giving-2020/
1. Tell us about your experience of joining the Global March Against Child Labour in 1998.
In 1998 when I was working with a small organisation in Pakistan, I heard about the Global March Against Child Labour (Global March) being organised by Mr Kailash Satyarthi to bring a global and universal legislation against child labour. I contacted their Lahore coordinator, Mr. Mushtaq Ahmad, from Insan Foundation, in order to join the march immediately. During a national meet in Lahore, I asked Mr Anees Jailani, if there was any chance for me to join the global march abroad. I was informed that I could only join the march in India. I was delighted at the opportunity to visit my ancestral country and from there things started happening really fast. Within a couple of weeks, I was in a flight from Islamabad to New Delhi.
When I reached New Delhi, I remember receiving a very warm welcome from Mr Satyarthi. We had chai together and talked about child rights in India and Pakistan. Later that day, we took a flight to Gujarat and upon reaching Surat, people welcomed us with slogans against child labour. It was an inspirational moment.
Before leaving for home, I requested one last meeting with Mr Kailash Satyarthi and presented him a Pakistani dress as my token of admiration and gratitude. Later that day Mr Satyarthi gave me the opportunity to join the Global March in Europe. I was given lots of responsibilities and I was beyond excited to join the global march against child labour in Europe.
2. What inspired you to initiate your own organization, GODH? What are the objectives of GODH?
The 1998 Global March was my inspiration to begin working at the grassroots level in Pakistan.  I had dreamt of working with the nomadic Gypsy community of Pakistan and I decided to build an organisation called GODH. It means "safe place for a child" in Urdu. In October 1998, I started working for the Gypsy community without any funding or support. Our first funding of PKR 5000 was received from Mr Anees Jailani and second from Mr Zia-ul-Haq, who is also an admirer of Mr Satyarthi's work.
GODH today is a pioneer organisation working with the Gypsy community and street children in Pakistan. In 2006, I got the Ashoka fellowship title for our unique work with the nomadic communities and their children in Pakistan.
GODH's objectives are to provide a safe environment to vulnerable and marginalised children, especially by providing them with education, health facilities, legal and social protection. We also strive to raise awareness within the communities about their rights, education, health and now, COVID-19 as well.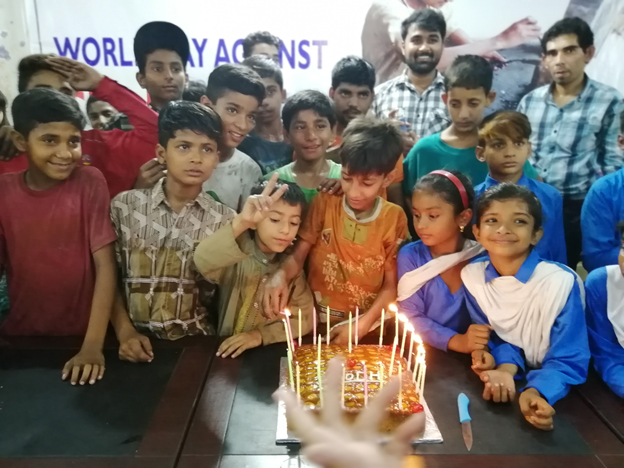 3. What is the situation of gypsy children in Pakistan?
Gypsy children of Pakistan are on the streets working rather than being in schools. They are exploited by employers for cheap labour because many of them are working to support their families financially and have no other choice. While living on streets they face several health related issues, and most of them are physically and sexually abused as well.
Needless to say that children are unsafe while living on the streets, they end up picking bad habits of smoking, begging and stealing. The rate of early child marriages is still high within nomadic communities. Street children and children from the Gypsy community keep migrating from one place to another with or without their families, which makes it difficult to track them.
4. How is GODH addressing the issues of gypsy children in Pakistan?
We have built activity centers within their settlements, where we provide them with education, legal aid, and basic health facilities. Our team frequently conducts awareness campaigns for the community members on relevant topics. GODH also facilitates data collection and research from the communities that we work with, so their problems can be presented accurately. We speak for their legal rights and development on different national and international platforms.
We also celebrate "Gypsy Day" every year, to celebrate and promote their unique culture with the society at large.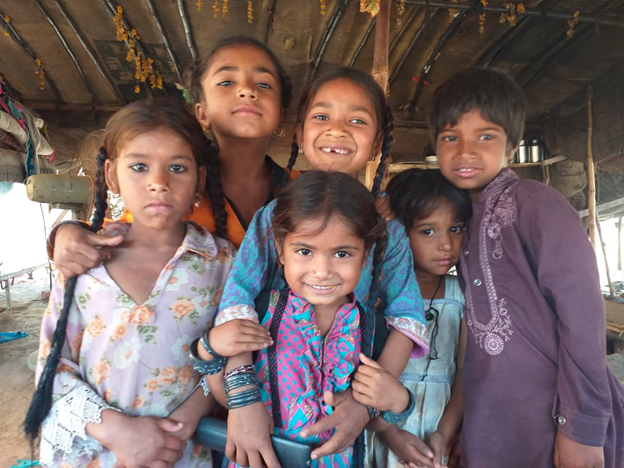 5. What is the situation of child domestic labour in Pakistan?
Child domestic labour (CDL) is emerging as a more prevalent form of child labour and is stealthy due to its invisibility. Children have become a continued source of cheap labour for wealthy families across the country. The number of domestic child labourers is increasing day by day and reports of brutal violence inflicted on them surface regularly.
These children are bound to work for their employers for 20 hours a day. They are not allowed to meet their parents, siblings, or relatives. Children, especially girls, also face sexual abuse behind closed doors. Child domestic labour is one of the worst forms of child labour and needs to be universally banned and punished.
6. What has been GODH's contribution in advocating for a strong law against child domestic work and for protecting child domestic workers?
GODH is the only organisation which has regularly talked about child domestic labour in national and international conferences, as well as organised door-to-door campaigns to raise awareness against it. We have spoken to lawmakers, published articles in newspapers and participated in talk shows about the issue. We have also written letters to the Prime Minister of Pakistan to bring his attention to this grave matter.
Because of our continued advocacy against child domestic labour, employment of children under 14 years in Islamabad and under 15 years in Punjab province in domestic work is now illegal.  This has been possible due to continued advocacy by GODH with the support of Global March since 2014. GODH has been since working tenaciously to identify legal gaps and demand for a strong policy against child domestic labour. In 2017, it worked towards an improvement in the Punjab Domestic Workers policy and provided recommendations for protection of children in domestic work under the same. Due to persistent advocacy for adoption of this policy into a law, in 2019, Punjab Domestic Workers Act was finally passed that also prohibits child domestic labour under the age of 15. Due to resolute advocacy by GODH and its allies under the Child Rights Movement Network, in 2017, the long awaited National Commission on Child Rights Bill was passed which created an independent Commission for children to evaluate, safeguard and promote the rights of the child.
GODH over the years also took a number of legal cases of tortured child domestic workers and fought in the court of justice pro-bono for their appropriate compensation as well as protection from the atrocities of their employers.  The cumulative result of the years of work around child domestic labour by GODH ended up in Government of Pakistan listing child domestic labour in the hazardous list of occupations prohibited for children at the Federal level in the first week of August 2020, a long awaited goal of the child rights organisations such as GODH in Pakistan. Through a Gazette notification approved by the cabinet, it is now illegal to engage children as domestic labour in Islamabad. Banning of child domestic labour prescribed under the 1991 Child Employment Act is valid for Islamabad Capital Territory but provinces can adopt through a simple provincial assembly resolution of the same.
GODH is determined to fight till Pakistan is free from all forms of child labour.
7. How has COVID-19 affected the lives of children in child labour? Has GODH taken any efforts to protect such children?
Many factories and other local shops had to shut down due to the nationwide lockdown. They fired their workers and hired children on lower wages. Because of the lockdown, many children couldn't go home and had to live on the premises of their employers, that has increased the cases of child abuse.
The trend of online grocery shopping intensified in the country, especially in the urban centers, which suddenly required a workforce for packaging the day-to-day household items, e.g. grains, flour, lentils, sugar, rice, etc. For such purposes children were hired, considering they are a cheaper, more docile workforce. Child-labourers earlier involved in the trades which are not walled or hidden, e.g. motor workshops, restaurants and tea stalls lost their jobs during the lockdown, started working as domestic workers. COVID-19 has augmented domestic child labour, especially in the urban areas of the country.
GODH has continued its work of protecting and promoting child rights by providing services to children (education, health and legal aid). GODH is also engaging policy makers for better legislation and its implementation through advocacy and lobbying. For the same, GODH has established the Pakistan chapter of Parliamentarians Without Borders for Children's Rights, which is an initiative of Nobel Peace Laureate, Kailash Satyarthi, coordinated by Global March Against Child Labour.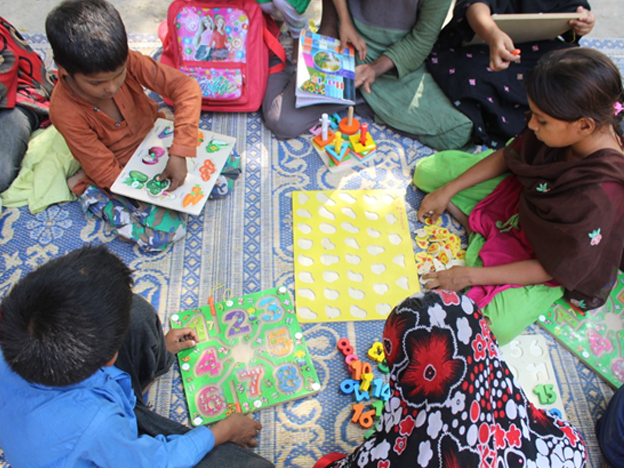 8. Do you have a message for the policymakers and the international community?
Yes, first and foremost, policymakers should be well aware and educated on matters related to child rights. We demand a comprehensive legislative framework for child protection in Pakistan, which is currently lacking. Policymakers must ensure that the law enforcement is well equipped to implement child protection legislation. The international community, especially, ILO and UNICEF must expand their work in Pakistan especially for high risk and hard to reach children such as children from the Gypsy community.