By Palak Gupta, for Global March Against Child Labour
The number of children in child labour has risen to 160 million worldwide, with 9 million additional children at risk due to the impact of COVID-19, as stated by UNICEF-ILO. One of the most prominent factors contributing to this menace is multidimensional poverty, which forces children to prioritise survival for basic needs such as food over education and as a result, work in hazardous circumstances to supplement their family's income. Hence, efforts directed to ensure the survival in the form of food security not only have the potential of bringing children back to school but also enabling complete education and overall well-being for the most vulnerable child.
Rural children face greater challenges than urban children primarily because of higher dependence of households on agriculture. For millions of smallholder and marginalised farmers, agriculture is more subsistent than generating surplus, to sell in the market due to low return on investment and lack of infrastructure which contributes to poor education and higher malnutrition rates amongst children in agro-rural communities. This further reduces the scope of children earning well in future upon adulthood, thus creating a vicious cycle of intergenerational poverty and more probability of child labour.
As a case in point, Bangladesh, known for its remarkable socio-economic development in the last decade, has the second largest number of child labour for the 5-17 years age range in South Asia².  As suggested by Multiple Indicator Cluster Survey (MICS) 2019³, 6.8 per cent of children aged 5-17 are involved in child labour in Bangladesh. It is higher among children not attending school (18.9%) compared to those attending school (4.4 per cent). The child labourers engaged in the rural workforce are around 83% of the total while the remaining are employed in urban areas. To reduce child labour, poverty reduction policies like food security and investment in early education such as the National School Feeding Programme (SFP)⁴ are in place in Bangladesh with a two part outlay. In the first one, it targeted 146 schools by providing approximately 9.3 million micronutrient fortified biscuits per year and second part of the scheme is aiding the formulation of the first National School Meal Policy (NSMP) where the idea was to cover 30% of the nutritional needs of every primary school student. Under this pilot project NSMP which was initiated in 2019, students' attendance has risen by 11% in schools where cooked meals were served and by 6% where biscuits were served⁵.
However, what is still needed is a nationwide implementation of school feeding programmes, especially in the agro-rural-coastal areas where the last mile communities are increasingly vulnerable due to not only economic challenges but also the impacts of climate change. UNICEF estimates that at least 1 in 3 children in Bangladesh face the repercussions of climate change in the country every day. This in itself is a key figure of children at risk who need food security to prevent them from further engaging as child labourers. Bangladeshi Children's Climate Declaration (BCCD) came up as a heroic statement of concern where ahead of COP26 Climate Change Conference, children have asked the concerned authorities to instigate actions for their protection from worsening climate conditions by strengthening climate-adapted education, health, nutrition, water, sanitation and hygiene services by building climate resilience in mechanism.
Similarly, in India there are over 8.3 million child labourers who are between the ages of 5 and 14. India's flagship programme for food security is Mid Day Meal programme under which hot cooked food is provided to students from Classes 1 to 8 covering around 11.80 crore children in all, in 11.20 lakh government and government-aided schools. But there are multiple loopholes that need fixing like preference of quantity over quality, large scale caste and gender-based discrimination and the delayed funds outreach to agro-rural areas and children of migrant workers. Instead of solving the twin problem of malnutrition and child labour, the focus gets diverted in treating these loopholes within the process of implementation of such programmes.
Africa, which has a dismal social structure and very low levels of national income, is home to the largest number of child labourers with 87 million child labourers wherein 31.5 million are in hazardous work as stated by UNICEF-ILO. School feeding programmes which attract major foreign collaborations and UN support have their own challenges. They are yet to be made mainstream which requires a more robust system and a planned outlay, but the process has started. The Government of Uganda has collaborated with various international entities for local pilot programmes like with the UN World Food Programme to provide home food rations to school children in the Karamoja sub-region and with the European Union for funding the establishment of gardens to grow food in Kole district. School feeding is included in the national planning process, yet there is no national, regional, or local budget line. There have been various pilot programmes in different districts providing food to keep children in school and raise their nutrition level but the target of child labour reduction loses its momentum due to challenges of the system like dependence on primitive farming, higher cases of infections, irregulated markets and low scale implementation.
COVID-19 Worsening the Situation
The COVID-19 pandemic led to mass reverse migration to rural areas in countries like India, school closures in Bangladesh for straight 18 months and huge digital gap i.e. limited access to smartphones and internet, resulting in increased participation of children in farm activities as disguised labour in most developing nations. Close to 15 million children were able to return to school only very recently in Uganda, ending the world´s longest school closure. Irreparable damages have been done amidst the pandemic which may have long term consequences for children at risk with a bigger challenge of ensuring that millions of vulnerable children stay in school and are not forced to return to work.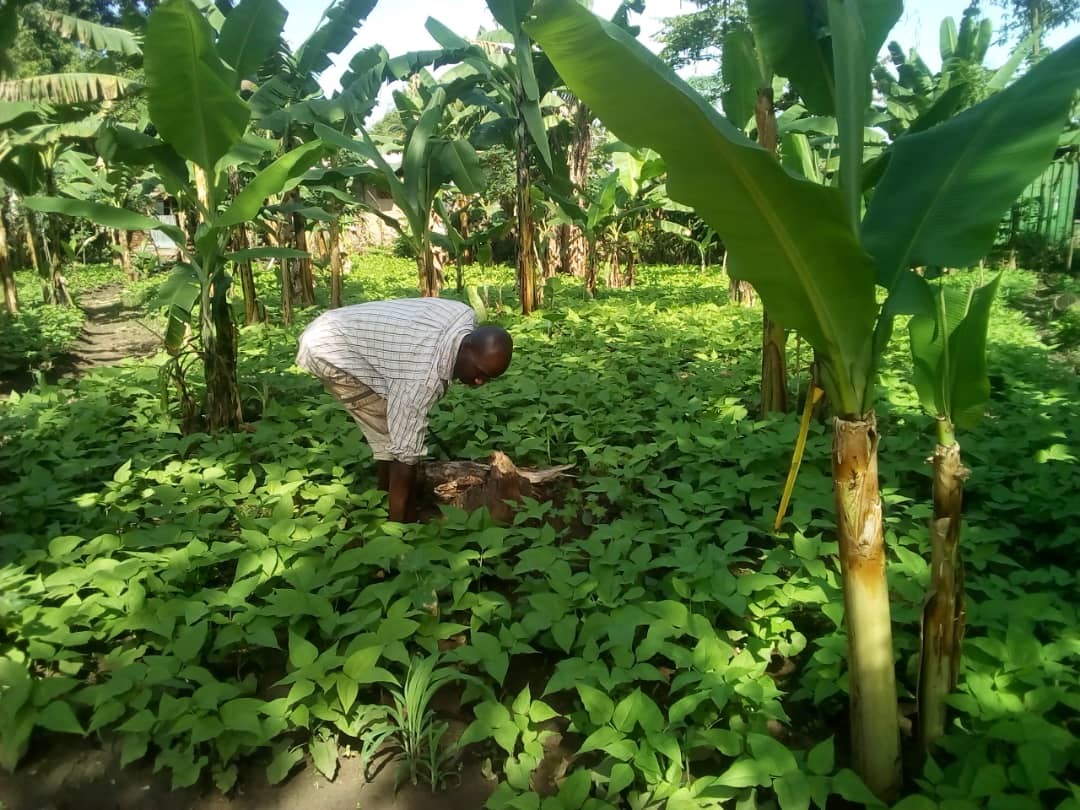 As a part of ¨seeds for education¨ initiative, beneficiary farmers grow seasonal crops for ensuring that their children don´t have to engage in child labour to earn a meal
The complex and long lasting consequences of the pandemic, combined with the pre-exisiting gaps and challenges of providing food security as a measure to prevent child labour and retain children in schools needs collective action and community centric practices. Global March Against Child Labour (GMACL), along with its regional member organisations NOTU and ANPPCAN in Uganda came on board as civil society mobilisers with a primary goal of reducing child labour by providing food security with the initiative "seeds for education". Sufficient food grown on surplus school land or at a farmer's land has proven to reduce dependence on child's income and increase the chances of bringing them back to school.
Simultaneously, advocacy efforts are carried out with various stakeholders, be it children, their families, parliamentarians or business groups to create awareness regarding individual effort and advocating for a child's fundamental right of education. Additionally, with the help of child labour monitoring system in the Mt. Elgon region, GMACL is targeting areas in the coffee plantation process in Uganda which is highly labour intensive and thus engages huge numbers of child labourers.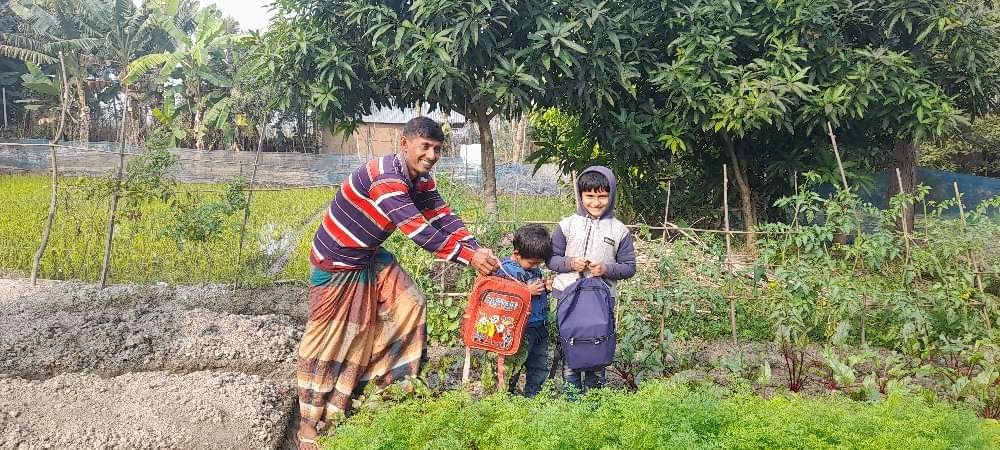 Families engaged in saline farming successfully sold the grown vegetables and gained high profit due to which they could purchase school supplies for children (Bangladesh)
Further, an area-based approach that targets hotspots of child labour along with its root causes such as agricultural poverty and lack of opportunities to diversify income has the potential to not only improve child labour and education rates but also benefit the communities. GMACL along with Cordaid Bangladesh has helped in initiating a pilot project on saline farming in the coastal areas of the country where child labour in the shrimp sector is prevalant. Training of smallholder and marginalised farmers on collective salt water farming to ensure increased food supply in otherwise uncultivable land is done with the help of experts along with advocacy on child labour and education in target communities with the families as well as duty-bearers.
However, the underlying target of bringing children back to school and thereby keeping them away from work still remains unfulfilled to a large extent which is why good practices rooted in area-based approach such as child friendly villages with an embedded child labour monitoring system need to be implemented by the governments at a larger scale. An "Area-Based Approach" focuses on creating child friendly or child labour free zones/villages by adopting tools such as the Child labour Monitoring System (CLMS) to administer area-based approach keeping track of children out of school, irregularity in attendance and thereby acts as vigilantes against child labour. These targeted efforts that are specific to particular areas have a better tendency to furnish desired results and thus can be further turned into a pan country movement to be able to address child labour in global supply chains by targeting its root causes such as food security at the local level. However, the issue of child labour is not an isolated one and therefore good practices pertaining to school feeding need to be replicated and mainstreamed at the local as well as national policy level to ensure that children don´t have to work and earn to feed themselves and their families.
Child labour is a dynamic problem, needs upholding of best practices by the governments
All three countries' approach of food security has child labour reduction merely as an added consequence. The focus either gets shifted in just maintaining nutrition levels or child enrolment. In order to treat child labour, there is more in the basket that needs to be done. Not just the enrolment but regular attendance needs monitoring, after-school engagement of children in work needs special policy tools with legal and pedagogical backing and most importantly pan country, national level policies are required with local support in implementation of school feeding in high risk areas to address child labour and lack of access to continued education.
Thus, what is required, among other things is the mainstreaming and outreach strengthening of School Feeding Programmes in agro-rural areas that can further be integrated within area-based best practices of child labour and education monitoring in hostpsots of child labour. However, the efforts of civil society and other non-government stakeholders is not enough and it is essential that the duty-bearers and governments at the community, local and national level not only endorse and support but take a step forward in mainstreaming and taking ownership of such best practices to address the various facets of child labour and its root causes.
********* 87 million child labourers in Sub-Saharan Africa need to be in school and have food security to sustain learning. Through the Africa Virtual March Against Child Labour, the Global March aims to mobilise support for ending child labour urgently in Africa especially via ensuring access to good quality education to all children, towards the V Global Conference on Child Labour to be held in South Africa.
The Global March, along with other civil society organisations will be submitting their joint call to action (via an 'Advocacy Letter') to the Ministry of Labour and Ministry of Education from various countries in Africa, to priortise efforts address child labour and support children to enjoy their human rights as children.
The Global March will be sending your signatures to the organisers of the Conference, that will add more voices to our joint call for children of Africa.
Join the march in this journey to see these children in school.
You can submit your signatures HERE!
To find out more, contact: nidhi@globalmarch.org